Profit From Your Intellect: How To Protect & Profit From Your Intellectual Property by Demitrus Evans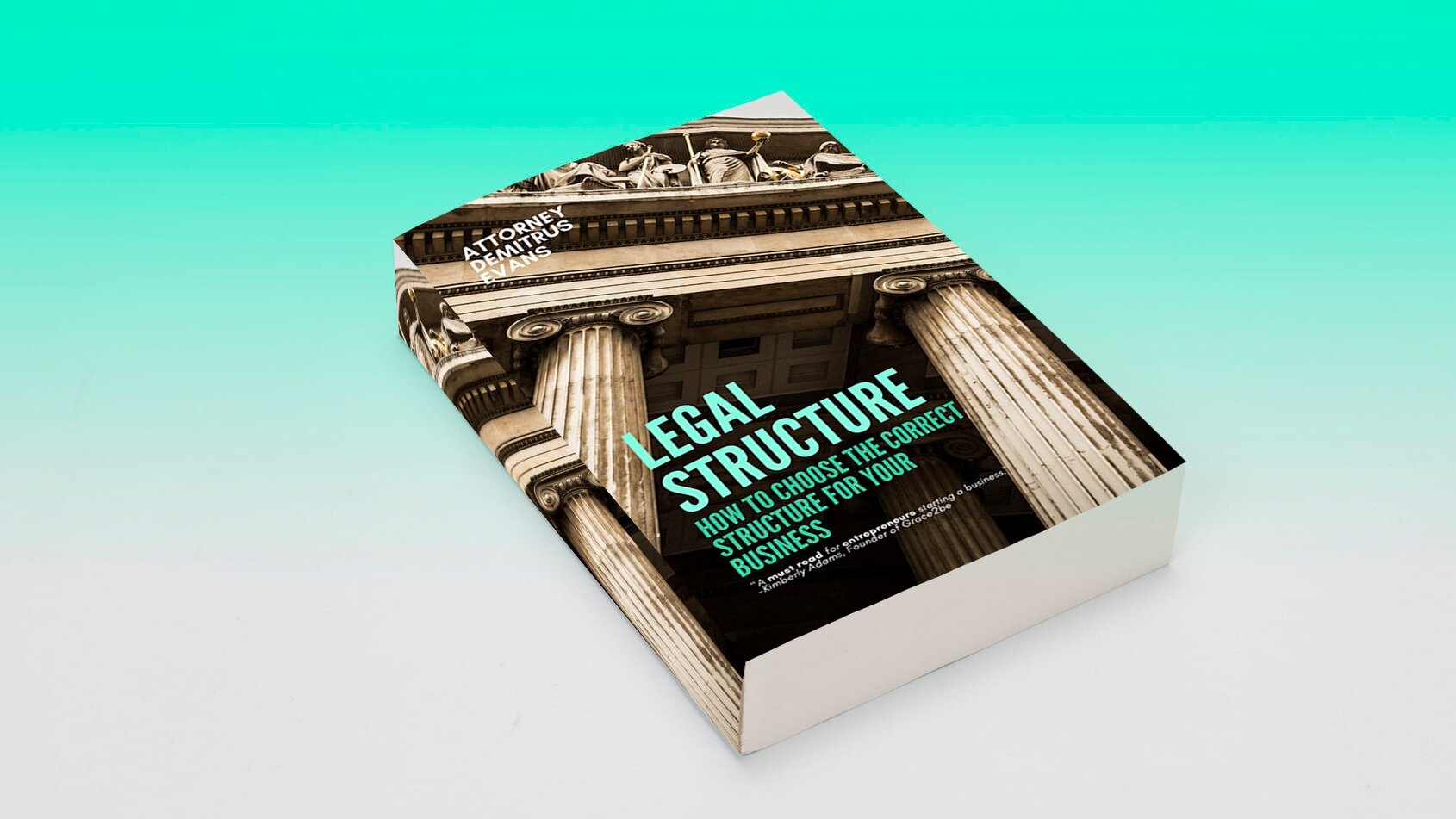 The Evans International Law Firms, LLC presents Legal Structure: How to Choose The Correct Structure For Your Business
The Evans International Law Firms, founded by Attorney Demitrus Evans in 2009 was established to make an impact in the lives of business owners, and individuals with just cause. The office practices both domestic and international law in the interest of business entities. With experience spanning 4 countries, and a combined 40 years of experience our guarantees are backed with expertise. It is our prerogative to provide legal services with unmatched professionalism and excellence.
Whether you're a new business or an established entity, we'll help to ensure that your legal contracts and agreements are airtight and legally sound. Our expertise in business law domestically, and internationally enables us to eliminate known and potential risks to your business. From the creation of the proper legal structure for optimal growth, to trademarks, contract review, letters of credit, negotiation and litigation, we ensure your business is protected, and properly structured.
We're looking for an Associate!
Think you'd be a great fit for the TEIL Family? Sen an e-mail with your resume and cover letter to admin@teilfirms.com
FOUNDER/MANAGING ATTORNEY
Demitrus Evans
From relocating to Chicago to work with Amnesty International in 1995, to opening her own practice in 2008, Demitrus has represented domestic and intentional clients large and small for over 20 years. She practiced in Federal, State and Appellate court, in both civil and criminal matters. Her business expertise includes the careful review and rewriting of business contracts, filing of trademarks, and real estate acquisition, as well as formation of for-profit and non-for profit Corporations. Her work includes board training and management training both nationally and internationally; business development and strategic legal planning for distributors and transporters seeking to relocate.
In her two decades, Attorney Evans has developed time-tested innovative legal strategies to prevent litigation and manage legal risks to allow your company to focus on its bottom line, and continues to implement new structures to rethink the way we do business. She brings a tremendous amount of integrity, dedication, and nuanced perspective that makes their firm the holistic solution for business clients. Staying ahead of the law's frequent changes is her sixth sense.
Bar Admissions
Illinois;

Supreme Court of the United States of America;

United States Court of Appeals for the Federal Circuit;

District Court of the Northern District of Illinois;

United States Court of International Trade
Education
UNIVERSITY OF MIAMI SCHOOL OF LAW
Juris Doctor, 1992
JOHN MARSHALL SCHOOL OF LAW
LLM, International Business & Trade, 2009
Activities & Affiliations
The Evans Exoneration Project (TEEP), Founder

Central Asia Productivity Resource Center, Board Member

Westchester Public Library, Board Member
ATTORNEY
WINNIE HUGOT
Attorney Winnie Hugot Gabriel will be focusing on the Intellectual Property Division of The Evans International Law Firms. She received her Juris Doctorate at the State University of Haiti School of Law and of Economic Sciences in Port-au-Prince and her LL.M. at University of Maryland Francis King Carey School of Law, where thanks to the Fulbright Scholarship, she received her Master of Laws degree in Intellectual Property law and Cybersecurity. At home, in Haiti, she is a very active member of the Bar of Port-au-Prince for which she hosts pro-bono a legal advice TV show program. She is also known as a journalist as she writes for Le Nouvelliste and Ticket Magazine very high-profile magazines in Haiti.
Attorney Gabriel is also a writer and has published the following: "Femmes Haïtiennes: 60 parcours d'exception", a book of portraits of different successful Haitian women working in various fields. In addition to her many articles, this well-known media personality, has participated in the writing of the study "Relations between political parties and parliamentarians in Haiti, Perspectives of 18 political figures", published in 2015 by IDEA International. In 2016, she released the document "Women in the media in Haiti: Small advances, big challenges" on behalf of Panos Caraibes.
She has received several awards including the Dean's Award for excellence in the LL.M. program of the University of Maryland Francis King Carey School of Law in May 2019.
TEIL Firms is very excited to welcome Attorney Gabriel and will very shortly be releasing her current projects in the US to the public. In the meantime, if you have Intellectual Property questions regarding trademarks copyrights, Cybersecurity or Patents we welcome your inquiries.
ATTORNEY
Yan Zong
Attorney Zong relocated to the United States from China, and studied in Chicago before coming to work with The Evans International Law Firms, LLC in 2016. When she was in law school, she was the recipient of CALI Award in the IP Clinic class. She was also the recipient of the Robert and Clytia Chambers Award in Patent Law, which denoted strongest performance in that course.
Since then, she's done excellent work as an attorney working with various domestic and international clients. She represents and advises clients on the matters of IP, business, contract and litigation.
Education
DEPAUL UNIVERSITY COLLEGE OF LAW
Juris Doctor
GUANGDONG UNIVERSITY OF FOREIGN STUDIES
Bachelor of Law
Bar Admissions
Illinois

District Court of the Northern District of Illinois
Activities & Affiliations
National Asian Pacific American Bar Association, Member

Chinese American Bar Association Chicago Chapter, Board of Directors

Chinese Trading and Investment Association Chicago Chapter, Board Member
ATTORNEY of counsel
theresa Johnson
Broad and in-depth law practice experience in multiple legal disciplines: intellectual property (copyrights, trademarks, and patents), contract law, immigration, employment termination, Title VII discrimination, mechanics liens, defamation law, contested probate, and general litigation.
Extensive corporate management experience in technology training and instructional design, teaching, coaching mid and upper level managers, and public speaking
Activities & Affiliations
Illinois State Bar Association Intellectual Property Committee, member
Continuing Legal Education Programs, speaker/presenter
Strong Suit: Providing to individuals and corporate clients, legal counseling, settlement negotiations strategies and representation in litigation.

Development, implementation and deployment of large scale corporate projects. Self starter and able to direct and coach teams for product delivery with "out of the box" solutions.

Teaching English as a second language.
ATTORNEY of counsel
Hiram peacock
Attorney, advisor and counselor for small to mid-size companies for general business issues as well as intellectual property protection and monetization.
Specialties: Intellectual Property management, patent drafting, invention licensing, contract negotiations, and business startups.
PARALEGAL
TE'ARIE WILLIAMS
Te'Arie is currently in her FINAL year of law school and has been a part of the TEIL team since August 2017. She is a valuable asset to the office and assists with trial preparation, legal research , drafting motions and all anything else needed of her in the office. She also has experience in the children welfare background. She also interns with the Cook County Public Guardian's office.
Education
JOHN MARSHALL LAW SCHOOL
Juris Doctor Candidiate
ROOSEVELT UNIVERSITY
B.A.
Activities & Affiliations
• TEEP, Member
.03
social
CONNECT WITH US ON INSTAGRAM
CLICK THROUGH TO READ ARTICLES
Join The Firm Where Excellence Matters
Apply below to become a member of the premier woman, and minority run law firm.
OPEN Roles
ASSOCIATE ATTORNEY
PARALEGAL
Think you'd be a good fit? Apply below.
Our Office
10330 W. Roosevelt Rd., Ste #204
Westchester, IL 60154
Contact Us
Get in touch for more information on open roles hiring now.
CORPORATE STRUCTURING AND RESTRUCTURING
TEIL works with inbound companies to structure agreements for partnerships and scaling.
With consistent introduction of varying revenue streams and distribution channels, the opportunity for profit grows, as so does the complexity.
That's where we come in.

BUSINESS FRAUD
Business is a little like life. Much of the difficulties you encounter can be avoided with careful planning, and preparation - but some issues cannot be avoided. Protecting a brand or even a single design involves intellectual property, copyrights, trademarks, and patents. Don't find yourself unprotected, arm yourself with legal expertise and get ahead of the curve.

DEFAMATION & IMAGE RIGHTS
Maintaining the integrity of your public image is an inseparable part of your business, whether you're a creative individual or a small company. Protecting your privacy and your public image from slander and libel is only one side of the coin; negotiating sponsorships, public appearances, and endorsements is the other. TEIL advises on both, offering litigation and dispute resolution, defamation (pre and post publication), and other image protection mechanisms—all so you can amplify and control the way you want the world to see you.

BUSINESS NEGOTIATION
The internet, software, and technology are so pervasive that we can't remember having ever lived without them. They make our lives simpler, but behind the curtain are fluctuating challenges in protection and monetization—challenges that our firm stays two steps ahead of.
BUSINESS STRATEGY
The startup and small business marketplace is still a new and fierce frontier that requires legal advice from attorneys who are deeply familiar with the ins and outs of new business. We offer a competitive advantage that can help you save money and make more of it in the long run. Our holistic approach is essential to any company looking to grow.
LITIGATION
Handling the difficult situations when things go wrong can be stressful . When that turns into a lawsuit, either you initiating or defending you need counsel. Our goal is to research the laws and statutes and make sure that our clients voice is heard and you win. Our trained litigation attorneys are equipped with the knowledge and personality to handle the toughest of litigation cases. We have represented clients internationally, arbitration, Illinois, DC, Michigan and in the federal Circuit.
MERGERS AND ACQUISITIONS
Demystifying mergers is one of the things TEIL does best.
M&A is not just for publicly traded companies.
Companies of all sizes find occasion to acquire, or merge to expand, restructure, or even downsize. Talk to us today about how your company can sell, or acquire new assets while safely evaluating risk.

INTELLECTUAL PROPERTY
Ideas, tangible or not, are the most important things to protect in today's competitive creative market. With so many channels and instantly replenishing feeds to watch out for, tracing the ownership and originality of a design, brand name, or invention needs the laser-focused eye of a trained attorney. We'll handle the search, application, and filing process of trademarks, copyrights, and patents. If your idea has been infringed upon, our litigation team will negotiate the best possible licensing and settlement agreements.
LIABILITY & RISK
Whether you run a theater, recording studio, or an eCommerce website, all businesses need to minimize their legal liability and risk. Our lawyers will assess the structure of your operation, such as its physical or digital space, the types of products you sell, who your consumers are, what type of company you have filed under (LLC, Inc, etc.), and so on. From there, we will tailor the right risk plan, complete with permit applications, contract review, insurance policies, and more, so you can worry less about liabilities and concentrate on growing your business.
IMPORTING & EXPORTING
Know that your market may not be in your local geographical area. Clients come to us on both sides of international business. With companies that import into the countries they are structuring business locally and hiring locally. Those who and export locally, nationally and internationally are expanding their business and marketing reach. Our experienced attorneys will review the contracts look at the risks and compliance and advise on business strategy in specific countries.
.06
full suite business services
For the Innovators & Way Makers
TEIL Firms, LLC is a full-suite Law Firm for both
startup

companies

looking to begin their business ventures, and

established

businesses

looking to grow, scale, and import and export.
For Startup Owners
We believe in independent business. That's because we are an independent business. Woman and minority owned, and determined to uplift small business owners with excellent legal representation, flawless corporate books, properly filed trademarks and copyrights to protect your Intellectual Property, and stress-free business filing.
No matter what you need, we're here to make your business security a reality.
You make the business, we'll make it secure.
The Evans International Law Firms, LLC
10330 W. Roosevelt Rd., www.teilfirms.com
Westchester IL 60154 www.teepexoneration.org
+ 1 708 531 1740
+1 708 531 1741
For Established business owners
Your business is in it's 3rd, 4th, or even 20th year, and you're looking to expand, scale, trade internationally, or acquire new property and merge.
You're busy building a business, and you need perfect contracts, competent legal representation, seamless property acquisition, thorough business contracts, prompt and researched copyrights, and trademarks, and even corporate books.
If your team is 10, 20 or 200, we're here to keep your business running smoother than ever.
We provide full-suite business consulting to meet your corporate growth needs.
.07
BUSINESS SERVICE PACKAGES
Our Standard Rate for Attorney billing begins at $450 per hour. Below are the standard packages for both startup and established businesses.
Business Startup Package
Corporate books

Brand Mark Copyright Filing

Business Plan Write-Up

Product Trademark Filing
Intellectual property package
Trademark Filing

Copyright Filing

or Patent Filing
Merger & Acquisition package
Merger Contract

3 Hours of Acquisition Research

State & Federal Filing

Contract Review
Importing Package
Importing Contract

Contract Review

3 Hours of Litigation

6 Month review
corporate expansion package
Real Estate Contract

Acquisition

Contract Review

Corporate Filing
1 Hour Private business consultation
1 Hour Private Business Consultation with Attorney Demitrus Evans, Attorney Yan Zong, or Attorney Winnie Hugot to discuss business law, package purchase or any other legal concern.
** Payment is to be paid in full at the time of services rendered. Phone calls are billed at $250 Per hour after your complimentary 15 Minute phone consultation. Payment methods accepted are all major credit cards, personal and business checks, Square, Paypal, CashApp and Venmo.
.09
WHAT OUR CLIENTS ARE SAYING
our rates
Depending on the case, we offer an hourly or flat rate. Our lawyers and paralegals keep detailed logs of the time they spend on your case. We count in ten minute increments and round down when in-between them. Work logs will be disclosed to all clients upon the closing of a case. We only work for as long as a case requires, so you'll never be over-billed for unproductive time. Final bills will include costs for copy, filing, messengers, and third-party research tools. Partner rates fall between $500 and $600 per hour while Associate rates are between $300 and $400 per hour. Our paralegals charge between $100 and $200 per hour. Retainers must be paid upfront.
Book an appointment
Use the form below to tell us about your legal inquiry, and we'll call you back to schedule an appointment. Please be as detailed as possible. Include what industry you need service for along with any specific document requests. To help us best serve your inquiry, we recommend that you first describe the issue you're having before telling us what you want to achieve. You may also email or call us to make an appointment.
Our general response time is one business day.
The Evans International Law Firms, LLC
"Where Excellence Matters"