Profit From Your Intellect: How To Protect & Profit From Your Intellectual Property by Demitrus Evans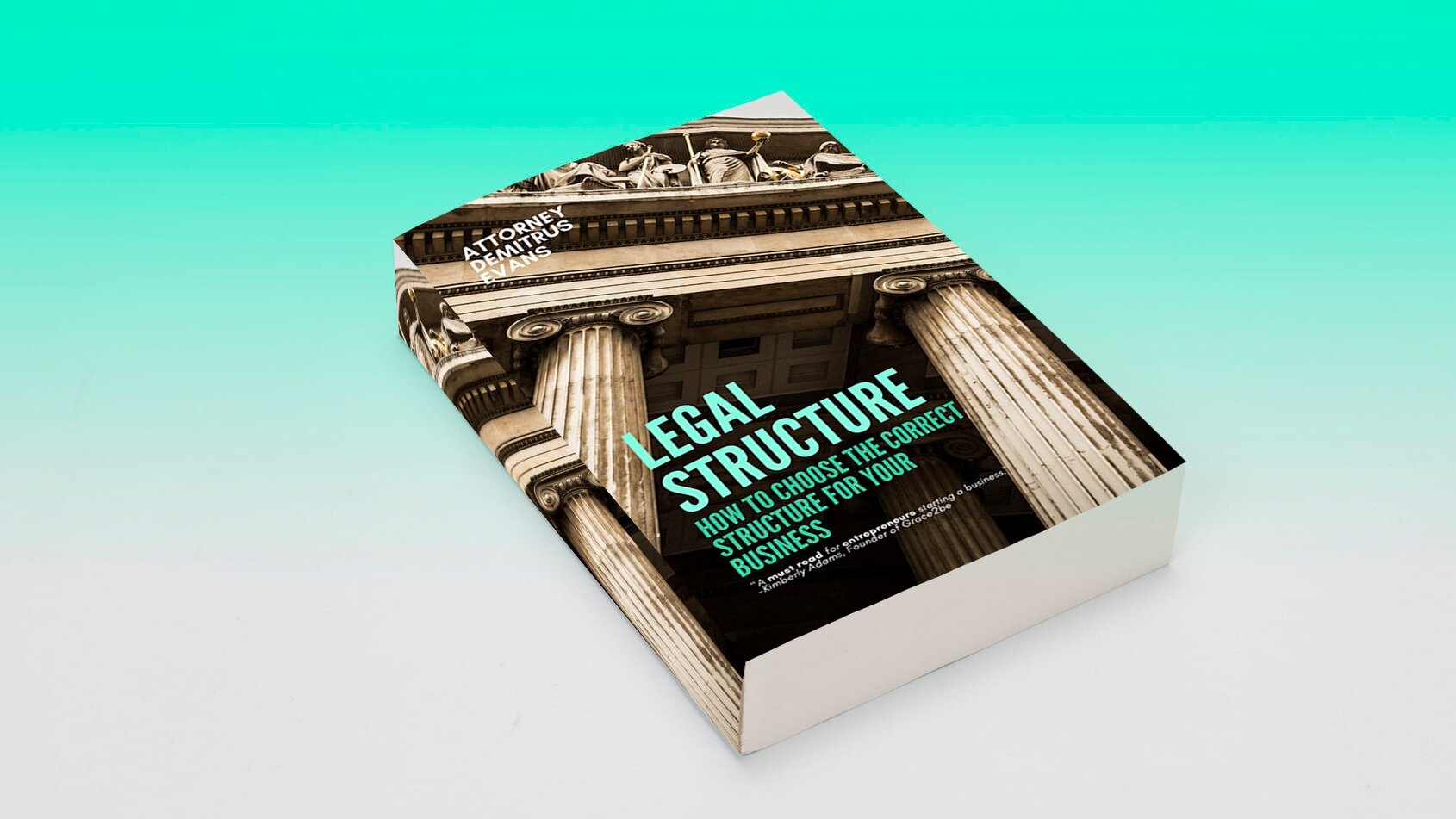 The Evans International Law Firms, LLC presents Legal Structure: How to Choose The Correct Structure For Your Business
The Evans International Law Firms, founded by Attorney Demitrus Evans in 2009 was established to make an impact in the lives of business owners, and individuals with just cause. The office practices both domestic and international law in the interest of business entities. With experience spanning 4 countries, and a combined 40 years of experience our guarantees are backed with expertise. It is our prerogative to provide legal services with unmatched professionalism and excellence.
Whether you're a new business or an established entity, we'll help to ensure that your legal contracts and agreements are airtight and legally sound. Our expertise in business law domestically, and internationally enables us to eliminate known and potential risks to your business. From the creation of the proper legal structure for optimal growth, to trademarks, contract review, letters of credit, negotiation and litigation, we ensure your business is protected, and properly structured.
FOUNDER/MANAGING ATTORNEY
Demitrus Evans
From relocating to Chicago to work with Amnesty International in 1995, to opening her own practice in 2008, Demitrus has represented domestic and intentional clients large and small for over 20 years. She practiced in Federal, State and Appellate court, in both civil and criminal matters. Her business expertise includes the careful review and rewriting of business contracts, filing of trademarks, and real estate acquisition, as well as formation of for-profit and non-for profit Corporations. Her work includes board training and management training both nationally and internationally; business development and strategic legal planning for distributors and transporters seeking to relocate.
In her two decades, Attorney Evans has developed time-tested innovative legal strategies to prevent litigation and manage legal risks to allow your company to focus on its bottom line, and continues to implement new structures to rethink the way we do business. She brings a tremendous amount of integrity, dedication, and nuanced perspective that makes their firm the holistic solution for business clients. Staying ahead of the law's frequent changes is her sixth sense.
Bar Admissions
Illinois;

Supreme Court of the United States of America;

United States Court of Appeals for the Federal Circuit;

District Court of the Northern District of Illinois;

United States Court of International Trade
Education
UNIVERSITY OF MIAMI SCHOOL OF LAW
Juris Doctor, 1992
JOHN MARSHALL SCHOOL OF LAW
LLM, International Business & Trade, 2009
Activities & Affiliations
The Evans Exoneration Project (TEEP), Founder

Central Asia Productivity Resource Center, Board Member

Westchester Public Library, Board Member
ATTORNEY
WINNIE HUGOT
Attorney Winnie Hugot Gabriel will be focusing on the Intellectual Property Division of The Evans International Law Firms. She received her Juris Doctorate at the State University of Haiti School of Law and of Economic Sciences in Port-au-Prince and her LL.M. at University of Maryland Francis King Carey School of Law, where thanks to the Fulbright Scholarship, she received her Master of Laws degree in Intellectual Property law and Cybersecurity. At home, in Haiti, she is a very active member of the Bar of Port-au-Prince for which she hosts pro-bono a legal advice TV show program. She is also known as a journalist as she writes for Le Nouvelliste and Ticket Magazine very high-profile magazines in Haiti.
Attorney Gabriel is also a writer and has published the following: "Femmes Haïtiennes: 60 parcours d'exception", a book of portraits of different successful Haitian women working in various fields. In addition to her many articles, this well-known media personality, has participated in the writing of the study "Relations between political parties and parliamentarians in Haiti, Perspectives of 18 political figures", published in 2015 by IDEA International. In 2016, she released the document "Women in the media in Haiti: Small advances, big challenges" on behalf of Panos Caraibes.
She has received several awards including the Dean's Award for excellence in the LL.M. program of the University of Maryland Francis King Carey School of Law in May 2019.
TEIL Firms is very excited to welcome Attorney Gabriel and will very shortly be releasing her current projects in the US to the public. In the meantime, if you have Intellectual Property questions regarding trademarks copyrights, Cybersecurity or Patents we welcome your inquiries.
ATTORNEY
Yan Zong
Attorney Zong relocated to the United States from China, and studied in Chicago before coming to work with The Evans International Law Firms, LLC in 2016. When she was in law school, she was the recipient of CALI Award in the IP Clinic class. She was also the recipient of the Robert and Clytia Chambers Award in Patent Law, which denoted strongest performance in that course.
Since then, she's done excellent work as an attorney working with various domestic and international clients. She represents and advises clients on the matters of IP, business, contract and litigation.
Education
DEPAUL UNIVERSITY COLLEGE OF LAW
Juris Doctor
GUANGDONG UNIVERSITY OF FOREIGN STUDIES
Bachelor of Law
Bar Admissions
Illinois

District Court of the Northern District of Illinois
Activities & Affiliations
National Asian Pacific American Bar Association, Member

Chinese American Bar Association Chicago Chapter, Board of Directors

Chinese Trading and Investment Association Chicago Chapter, Board Member
ATTORNEY of counsel
theresa Johnson
Broad and in-depth law practice experience in multiple legal disciplines: intellectual property (copyrights, trademarks, and patents), contract law, immigration, employment termination, Title VII discrimination, mechanics liens, defamation law, contested probate, and general litigation.
Extensive corporate management experience in technology training and instructional design, teaching, coaching mid and upper level managers, and public speaking
Activities & Affiliations
Illinois State Bar Association Intellectual Property Committee, member
Continuing Legal Education Programs, speaker/presenter
Strong Suit: Providing to individuals and corporate clients, legal counseling, settlement negotiations strategies and representation in litigation.

Development, implementation and deployment of large scale corporate projects. Self starter and able to direct and coach teams for product delivery with "out of the box" solutions.

Teaching English as a second language.
ATTORNEY of counsel
Hiram peacock
Attorney, advisor and counselor for small to mid-size companies for general business issues as well as intellectual property protection and monetization.
Specialties: Intellectual Property management, patent drafting, invention licensing, contract negotiations, and business startups.
PARALEGAL
TE'ARIE WILLIAMS
Te'Arie is currently in her FINAL year of law school and has been a part of the TEIL team since August 2017. She is a valuable asset to the office and assists with trial preparation, legal research , drafting motions and all anything else needed of her in the office. She also has experience in the children welfare background. She also interns with the Cook County Public Guardian's office.
Education
JOHN MARSHALL LAW SCHOOL
Juris Doctor Candidiate
ROOSEVELT UNIVERSITY
B.A.
Activities & Affiliations
• TEEP, Member
CLICK THROUGH TO READ ARTICLES